Sale
iMac 10,1
availability:In stock
sku:
Quick Overview
iMac 10,1
Intel Core 2 Duo

3.06 GHZ
4 GB RAM
500 GB HDD
NVIDIA GeForce 9400 256MB
21.5 Inch (1920 x 1080)
Product Description
Ratio redo
The changes with the iMac start with the screen. Replacing the previous 20- and 24-inch screen with a 16:10 aspect ratio are 21.5- and 27-inch displays at 16:9, more suitable for widescreen HDTV video. The 21.5-inch display has a native resolution of 1920-by-1080, while the 27-inch display has a resolution of 2560-by-1440. The aluminum faceplate at the bottom of the screen is narrower than before, and the aluminum border around the screen is gone. At first glance, you might mistake the new iMacs for HDTVs—in fact, the new 27-inch iMac has support for a VESA Mount Adapter Kit ($29) for mounting on a wall..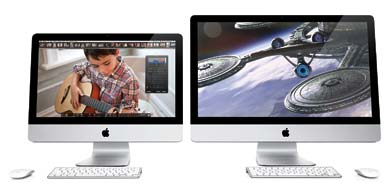 Switch on the iMacs, and you'll notice that the LED backlit screens on both the 21.5- and 27-inch models are a bit brighter than their predecessors. Look even closer at the 21.5-inch iMac, and you'll notice that its colors are much better than the 20-inch iMac. That's because Apple thankfully now uses 8-bit displays across the iMac line—the 6-bit dithered display used in the 20-inch iMac is gone (we hope).
Both of the new displays use in-plane switching (IPS) technology, which is supposed to help maintain image quality when viewing the screen at extreme angles. Looking at the new iMacs at different angles, I had a difficult time noticing any color shifting. When compared side-by-side against the previous iMacs, the 20-inch iMac screen looks like a mess, while the new iMac screens maintained their color integrity.
There's one major issue with the screen that, for many, is a deal-breaker: the glass on the display and its glossy effect. The glossy effect makes colors pop and blacks deep and rich, but you can see your reflection in the glass. When using the iMac as a desktop computer, I've learned how to see past the glare and reflections, but many others cannot develop such tolerance—and I'm not saying you should. Glare is a problem if you're in a group gathered around the 27-inch iMac that's being used as an HDTV. In fact, because of the glare, you might reconsider using the 27-inch iMac as a HDTV. However, it's now been two years since the first aluminum iMac with glass was introduced, and there are no signs that Apple is interested in offering a matte screen option.
Go inside
All three of the new iMacs use 3.06GHz Core 2 Duo processors with 3MB of shared Level 2 cache. The three new iMacs have the option to upgrade to a 3.33GHz Core 2 Duo processor with 6MB of shared Level 2 cache for an extra $200. The previous iMacs used Core 2 Duo processors at 2.66GHz, 2.93GHz, and 3.06GHz, but with 6MB of shared Level 2 cache.
The new iMacs come standard with 4GB of RAM, installed as a pair of 2GB 1066MHz DDR3 SO-DIMMs. The new iMacs have four memory slots; Apple actually leaves two slots open so you can add more RAM without having to replace the stock memory—a nice touch. The iMac can support up to 16GB of RAM, but a 16GB upgrade option is available only with the 27-inch 3.06GHz model for $1400. The other iMacs have an upgrade option of 8GB (an extra $200) installed as four 2GB SO-DIMMs. You can easily install RAM yourself through the RAM slots located at the bottom of the screen.
For graphics, the $1199 21.5-inch iMac uses a Nvidia GeForce 9400M, which uses 256MB of memory that's shared with the main memory. Both the $1499 21.5-inch iMac and the $1699 27-inch iMac use an ATI Radeon HD 4670 with 256MB of dedicated video memory. The 27-inch iMac is the only model in the line that has a graphics upgrade option, an ATI Radeon HD 4850 with 512MB of memory ($150).
All of the new iMacs have 7200 RPM hard drives. The $1199 iMac has a 500GB drive, and interestingly, Apple does not offer upgrade options for more storage. The other two iMacs have 1TB drives, and you can opt for a 2TB drive instead for an additional $250. All of the iMacs have SuperDrives, and next to the SuperDrive slot is a new SD card slot that can read SD and SDHC memory cards that are used in digital cameras.
Ports, video in, and more
Like previous iMacs, the ports are located on the back of the iMac, on the lower left side. There is a headphone/optical digital audio output minijack, an audio line in/optical digital audio input minijack, four USB 2.0 ports, one FireWire 800 port, a Mini DisplayPort, and a Gigabit Ethernet port. If you have FireWire 400 peripherals, you'll have to supply your own FireWire 400-to-FireWire 800 adapter.
The 27-inch iMac's Mini DisplayPort has an very interesting new feature. It has video-in capability, so you can connect a external video source like a MacBook, Blu-ray player, or even a Playstation 3, and use the 27-inch iMac as a monitor. According to Apple, the computer is still on when in this mode, and you can press Command-F2 on your keyboard to switch between the computer and the external video source. Apple also said that you can connect a video source while the iMac is on, so there's no need to shut down. To use the 27-inch iMac's video in, you need to have either a DisplayPort-compliant source like a MacBook, or you can use an adapter for a non-DisplayPort device, such as an HDMI-to-Mini DisplayPort video-in adapter. However, Apple said it has no plans to produce such adapters, leaving it up to third-party manufacturers.
To strengthen the possibility of using the iMac as part of an entertainment center, Apple upgraded the speaker system. The new speakers are a vast improvement over previous models, producing richer sound with better bass response and louder volume. You'll still want to use external speakers to fill a room larger than 20-by-20 feet, but for bedrooms, offices, dens, and smaller living rooms, the built-in speakers have enough power.
Unless specifically noted, all warranties are provided by the manufacturer or the retailer of the respective products and services shown.